Janice Hughes, Madical Abstractor, April 2021
Item
Title
Janice Hughes, Madical Abstractor, April 2021
Description
Oral history, Medical Abstractor Janice Hughes. Eau Claire, Wis.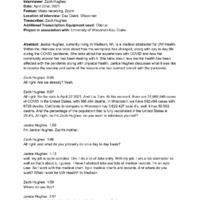 Janice Hughes, Madical Abstractor, April 2021
Abstract
Janice Hughes, currently living in Madison, WI, is a medical abstractor for UW Health. Within the interview she talks about how the workplace has changed, along with day to day life during the COVID pandemic. She talks about her experiences with COVID and how her community around her has been dealing with it. She talks about how mental health has been affected with the pandemic along with physical health. Janice Hughes discusses what it was like to receive the vaccine and some of the lessons she has learned overall with the pandemic.
New Tags