Lou Ann Koval, Laird Connectivity Worker, April 2021
Item
Title
Lou Ann Koval, Laird Connectivity Worker, April 2021
Description
Oral history, Laird Connectivity Worker Lou Ann Koval. Eau Claire, Wis.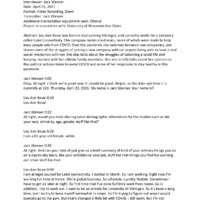 Lou Ann Koval, Laird Connectivity Worker, April 2021
Abstract
Lou Ann Koval was born in East Lansing Michigan, and currently works for a company called Laird Connectivity. This company makes electronics, some of which were made to help keep people safe from COVID. Over the pandemic she switched between two companies, and shares some of the struggles of joining a new company without anyone being able to have a real social interaction with her. She also talks about the struggles of balancing a social life and keeping involved with her elderly family members. She also briefly talks about her opinion on the political actions taken to avoid COVID and some of her responses to stay healthy in this pandemic.
New Tags