Sam Kuehn, Contracting Jobs, May 2021
Item
Title
Sam Kuehn, Contracting Jobs, May 2021
Description
Oral history, Contracting Job worker Sam Kuehn. Eau Claire, Wis.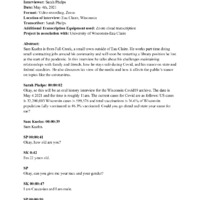 Sam Kuehn, Contracting Jobs, May 2021
Abstract
Sam Kuehn is from Fall Creek, a small town outside of Eau Claire. He works part time doing small contracting jobs around his community and will soon be restarting a library position he lost at the start of the pandemic. In this interview he talks about his challenges maintaining relationships with family and friends, how he stays safe during Covid, and his stance on state and federal mandates. He also discusses his view of the media and how it affects the public's stance on topics like the coronavirus.
New Tags