James Macy, Employment Lawyer, April 2021
Item
Title
James Macy, Employment Lawyer, April 2021
Description
Oral history, Employment Lawyer James Macy. Oshkosh, Wis.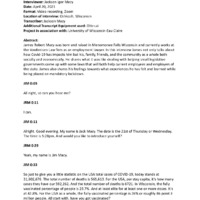 James Macy, Employment Lawyer, April 2021
Abstract
James Robert Macy was born and raised in Menomonee Falls Wisconsin and currently works at the VonBreisen Law firm as an employment lawyer. In this interview James not only talks about how Covid-19 has impacts him but his, family, friends, and the community as a whole both socially and economically. He shares what it was like dealing with helping small legislative governments come up with some laws that will both help current employees and employers of the state. James also shares his feelings towards what experiences he has felt and learned while being placed on mandatory lockdown.
New Tags