Daniel Monson, Police Officer, April 2021
Item
Title
Daniel Monson, Police Officer, April 2021
Description
Oral history, Police Officer Daniel Monson. Eau Claire, Wis.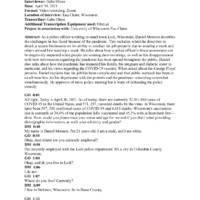 Daniel Monson, Police Officer, April 2021
Abstract
As a police officer working in small town Lodi, Wisconsin, Daniel Monson describes the challenges he has faced because of the pandemic. This includes, which he describes in detail, a severe hinderance on his ability to conduct his job properly due to wearing a mask and others around him wearing a mask. He talks about how a police officer's threat assessment can be negatively impacted when people are wearing face-coverings, as well as his disappointment with how information regarding the pandemic has been spread throughout the public. Daniel also talks about how the pandemic has impacted his family, his pregnant and diabetic sister in particular, and his views regarding the COVID-19 vaccine. When asked about the George Floyd protests, Daniel explains that his job has been complicated and that public outreach has been at an all-time low for his department with the protests and the pandemic coinciding somewhat simultaneously. He approves of more police training but is wary of defunding the police entirely.
New Tags