Jody Pabich, Senior Safety Manager, April 2021
Item
Title
Jody Pabich, Senior Safety Manager, April 2021
Description
Oral history, Senior Safety Manager Jody Pabich. Chippewa Falls, Wis.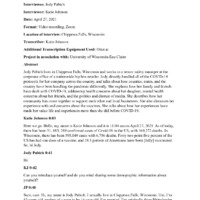 Jody Pabich, Senior Safety Manager, April 2021
Abstract
Jody Pabich lives in Chippewa Falls, Wisconsin and works as a senior safety manager at the corporate office of a nationwide big box retailer. Jody directly handled all of the COVID-19 protocols for her company across the country, and talks about how counties, states, and the country have been handling the pandemic differently. She explains how her family and friends have dealt with COVID-19, addressing health concerns about her daughter, mental health concerns about her friends, and the politics and distrust of media. She describes how her community has come together to support each other and local businesses. She also discusses her experience with and concerns about the vaccines. She talks about how her experiences have made her value life and experiences more than she did before COVID-19.
New Tags