Jocelyn Penagos, Marine Corps, May 2021
Item
Title
Jocelyn Penagos, Marine Corps, May 2021
Description
Oral history, Marine Corps Jocelyn Penagos. Milwaukee, Wis.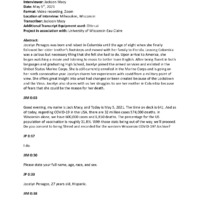 Jocelyn Penagos, Marine Corps, May 2021
Abstract
Jocelyn Penagos was born and raised in Columbia until the age of eight when she finally followed her older brother's footsteps and moved with her family to Florida. Leaving Colombia was a callous but necessary thing that she felt she had to do. Upon arrival to America, she began watching a movie and listening to music to better learn English. After being fluent in both languages and graduating High School, Jocelyn joined the armed services and enlisted in the United States Marine Corps. She is still currently enrolled in the Marine Corps and is going on her ninth consecutive year. Jocelyn shares her experiences with covid from a military point of view. She offers great insight into what had changed or been created because of the Lockdown and the Virus. Jocelyn also shares with us her struggles to see her mother in Columbia because of fears that she could be the reason for her death.
New Tags