Jill Polglaze, Librarian, April 2021
Item
Title
Jill Polglaze, Librarian, April 2021
Description
Oral history, Librarian Jill Polglaze. Franklin, Wis.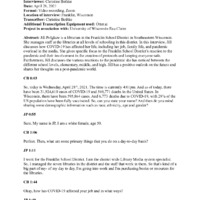 Jill Polglaze, Librarian, April 2021
Abstract
Jill Polglaze is a librarian in the Franklin School District in Southeastern Wisconsin. She manages staff at the libraries at all levels of schooling in this district. In this interview, Jill discusses how COVID-19 has affected her life, including her job, family life, and pandemic overload in the media. She gives specific focus to the Franklin School District's reaction to the pandemic and their involvement in the creation of protocols and keeping everyone safe. Furthermore, Jill discusses the various reactions to the pandemic she has noticed between the different school levels, elementary, middle, and high. Jill has a positive outlook on the future and shares her thoughts on a post-pandemic world.
New Tags