Galina Pozharsky, Russian Immigrant, April 2021
Item
Title
Galina Pozharsky, Russian Immigrant, April 2021
Description
Oral history, Russian Immigrant Galina Pozharsky. Eau Claire, Wis.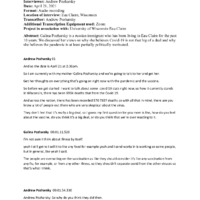 Galina Pozharsky, Russian Immigrant, April 2021
Abstract
Galina Pozharsky is a russian immigrant who has been living in Eau Claire for the past 10 years. We discussed her views on why she believes Covid-19 is not that big of a deal and why she believes the pandemic is at least partially politically motivated.
New Tags