Sai Rebbapragada, Daycare Worker, May 2021
Item
Title
Sai Rebbapragada, Daycare Worker, May 2021
Description
Oral history, Daycare Worker Sai Rebbapragada. Eau Claire, Wis.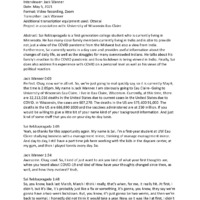 Sai Rebbapragada, Daycare Worker, May 2021
Abstract
Sai Rebbapragada is a first-generation college student who is currently living in Minnesota. He has many close family members currently living in India and is able to provide not just a view of the COVID pandemic from the Midwest but also a view from India. Furthermore, Sai currently works in a day care and provides useful information about the changes of daily life, as well as the struggles for many overcrowded Indians. He talks about his family's reaction to the COVID pandemic and how lockdown is being viewed in India. Finally, Sai does also address his experience with COVID on a personal level as well as his views of the political reaction.
New Tags