Katherine Running, Lab Researcher, April 2021
Item
Title
Katherine Running, Lab Researcher, April 2021
Description
Oral history, Lab Researcher Katherine Running. Eau Claire, Wis.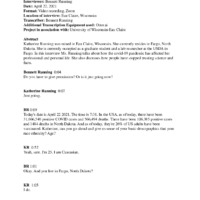 Katherine Running, Lab Researcher, April 2021
Abstract
Katherine Running was raised in Eau Claire, Wisconsin. She currently resides in Fargo, North Dakota. She is currently occupied as a graduate student and a lab researcher at the USDA in Fargo. In this interview Ms. Running talks about how the covid-19 pandemic has affected her professional and personal life. She also discusses how people have stopped trusting science and facts.
New Tags