Benjamin Stoflet, Law School Student, April 2021
Item
Title
Benjamin Stoflet, Law School Student, April 2021
Description
Oral history, Law School Student Benjamin Stoflet. Eau Claire, Wis.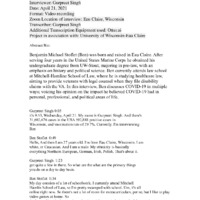 Ben Stoflet, Law School Student, April 2021
Abstract
Benjamin Michael Stoflet (Ben) was born and raised in Eau Claire. After serving four years in the United States Marine Corps he obtained his undergraduate degree from UW-Stout, majoring in pre-law, with an emphasis on history and political science. Ben currently attends law school at Mitchell-Hamline School of Law, where he is studying healthcare law, aiming to provide veterans with legal counsel when they file disability claims with the VA. In this interview, Ben discusses COVID-19 in multiple ways; voicing his opinion on the impact he believed COVID-19 had in personal, professional, and political areas of life.
New Tags