Holly Tremble, Care Worker, April 2021
Item
Title
Holly Tremble, Care Worker, April 2021
Description
Oral history, Care Worker Holly Tremble. Eau Claire, Wis.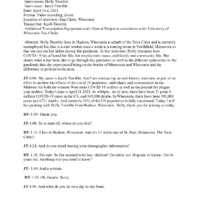 Holly Tremble, Care Worker, April 2021
Abstract
Holly Tremble lives in Hudson, Wisconsin a suburb of the Twin Cities and is currently unemployed but also is a care worker once a week at a nursing home in Northfield, Minnesota so that she can see her father during this pandemic. In this interview, Holly discusses how COVID-19 has affected her life, her employment status, and family and community life. She shares what it has been like to go through this pandemic as well as the different approaches to the pandemic that she experienced being on the border of Minnesota and Wisconsin and the difference in policies in the area.
New Tags