Zoe Tresemer, Nanny, April 2021
Item
Title
Zoe Tresemer, Nanny, April 2021
Description
Oral history, Nanny Zoe Tresemer. Eau Claire, Wis.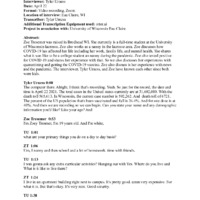 Zoe Tresemer, Nanny, April 2021
Abstract
Zoe Tresemer was raised in Brodhead WI. She currently is a full-time student at the University of Wisconsin lacrosse. Zoe also works as a nanny in the lacrosse area. Zoe discusses how COVID-19 has affected her life including her work, family life, and mental health. She shares what it was like to be a college student an nanny during the pandemic. Zoe also tested positive for COVID-19 and shares her experience with that. So we also discusses her experiences with quarantining and getting the COVID-19 vaccine. Zoe also discuss is her experience with news and the pandemic. The interviewer, Tyler Urness, and Zoe have known each other since both were kids.
New Tags