Pa Cha Vang, College Student, April 2021
Item
Title
Pa Cha Vang, College Student, April 2021
Description
Oral history, College Student Pa Cha Vang. Eau Claire, Wis.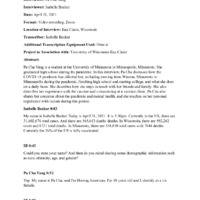 Pa Cha Vang, College Student, April 2021
Abstract
Pa Cha Vang is a student at the University of Minnesota in Minneapolis, Minnesota. She graduated high school during the pandemic. In this interview, Pa Cha discusses how the COVID-19 pandemic has affected her, including moving from Winona, Minnesota to Minneapolis during the pandemic, finishing high school and starting college, and what she does on a daily basis. She describes how she stays in touch with her friends and family. She also describes her experience with the vaccine and volunteering at a vaccine clinic. Pa Cha also shares her concerns about the pandemic and mental health, and she touches on her personal experience with racism during this period.
New Tags