Wendy Villalva, College Student, April 2021
Item
Title
Wendy Villalva, College Student, April 2021
Description
Oral history, College Student Wendy Villalva. Eau Claire, Wis.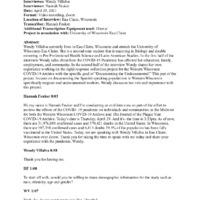 Wendy Villalva, College Student, April 2021
Abstract
Wendy Villalva currently lives in Eau Claire, Wisconsin and attends the University of Wisconsin-Eau Claire. She is a second-year student that is majoring in Biology and double minoring in Pre-Professional Health Science and Latin American Studies. In the first half of the interview Wendy talks about how the COVID-19 Pandemic has affected her education, family, employment, and community. In the second half of the interview Wendy shares her own experience working on the rapid-response collection project for the Western Wisconsin COVID-19 Archive with the specific goal of "Documenting the Undocumented." This part of the project focuses on documenting the Spanish speaking populations in Western Wisconsin specifically migrant and undocumented workers. Wendy discusses her role and experience with this project.
New Tags