Linda White, Financial Sector Worker, May 2021
Item
Title
Linda White, Financial Sector Worker, May 2021
Description
Oral history, Financial Sector Worker Linda White. Altoona, Wis.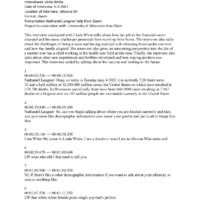 Linda White, Financial Sector Worker, May 2021
Abstract
This interview conducted with Linda White talks about how her job in the financial sector changed and the many challenges presented from working from home. The interview also talks about the challenges of being a mom and having multiple kids returning home under one roof and how the family adapted. The interview also gives an interesting perspective into the life of a mother who has a child working in the health care field at this time. Finally, the interview also talks about other new experiences and hobbies developed and how staying positive was important. This interview ended by talking about the vaccine and looking to the future.
New Tags