Lan Yang, Center for International Education Worker, April 2021
Item
Title
Lan Yang, Center for International Education Worker, April 2021
Description
Oral history, Center for International Education Worker Lan Yang. Eau Claire, Wis.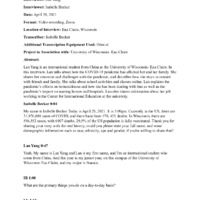 Lan Yang, Center for International Education Worker, April 2021
Abstract
Lan Yang is an international student from China at the University of Wisconsin- Eau Claire. In this interview, Lan talks about how the COVID-19 pandemic has affected her and her family. She shares her concerns and challenges with the pandemic, and describes how she stays in contact with friends and family. She talks about school activities and classes online. Lan explains the pandemic's effects on homesickness and how she has been dealing with that as well as the pandemic's impact on nursing homes and hospitals. Lan also shares information about her job working in the Center for International Education at the university.
New Tags